Téma Týdne je ,,sladkosti". Podle mě je sladké dobré i špatné. Sladké nás uklidňuje ale taky posouvá rafičku na vahách doprava. Ale dokázali by jsme žít ve světě bez sladkého? Já osobně si myslím že ne protože by jsme byli nervózní a ládovali do sebe brokolici či brambůrky nebo slané tyčinky apod. Dokážeme vůbec sladkému odolat? Já třeba neodolám pocukrovanému koblížku a kakau ke snídani (ano právě snídám :D)
Víc k tomu nemám co napsat.
Otázky pro vás:
Máte rádi sladké?
Jaký je váš názor na sladkosti?
---
---
A teď k tématu minulého týdne ,,Minulost" neměl jsem čas k tomu napsat a tak jsem se rozhodl udělat dvě témata týdne v jednom.
V minulosti jsem prožil hodně věcí ale pro vás určitě nezajímavých třeba šikana na základní škole. ← Proto vám radši povím o společnosti White Star Line (firma která vlastnila Titanic,Olympic a Britannic)
Tyto tři lodě jsou jedny z nejznámějších lodí tak vám o nich povím pár zajímavostí. (přiznávám čerpal jsem z wikipedie ale řeknu to vlastními slovy)
Titanik
Jedna z nejznámějších lodí která byla bohužel potopena hned při první plavbě.
Byla to dokonalejší kopie Olympiku který byl vypuštěn myslím cca o dva roky dříve (nebo o kolik)
Hned na začátku se málem plavba Titanicu zrušila, protože málem zničil jednu malou loď přivázanou v přístavu. (Hlavní roli tam hrál sací efekt z lodního šroubu)
Ovšem pár desítek metrů před srážkou se naštěstí podařilo loďku dostat pod kontrolu a plavba mohla pokračovat.
Titanic byl doslova plovoucí palác. Byly tam tělocvičny, jídelny, kuřárny, salónky a jiné.
Jeden lístek do první třídy stál 100 tisíc (30 liber šterlinků) salonní kajuta stála dva a půl milionu korun (870 liber)
A do třetí třídy stál 8-22 tisíc korun (3-8 liber)
Na Titanicu bylo 20 člunů a to nestačilo ani na polovinu lidí na Titanicu kterých tam bylo přes 2 000 (přesné číslo nevím)
Podle mého zhodnocení kdo zavinil srážku je viníkem kapitán a důstojníci a vůbec ten který přesvědčil kapitána aby zrychlil na max. (ne tohle nemám z toho romanťáku s DiCapriem to čtu v knize kde jsou fakta)
Za to že zemřelo tolik lidí mohl ten který kontroloval pravidla bezpečnosti protože schválil aby tam bylo tak málo člunů (dělali to podle Olympiku který měl menší účast)
15.dubna 2012 to bylo přesně sto let po jeho potopení.
Dnes existuje replika Titanicu a uvažuje se o tom že se postaví Titanic II.
A co myslíte vy? (váš názor na nehodu a kdo ji zavinil a na Titanic II.)
A ještě fotky:
Britannic

O tom tolik nevím ale vím že byl postaven až cca ,,pár letech" po Titanicu a výletů si moc neužil protože začala válka a Britannic zůstal v přístavu kde byl dokud se ho nerozhodli předělat na nemocniční loď. Potopil se když najel na minu a umřelo myslím 17 lidí kteří byli ve člunu stáhnuti sacím efektem k turbíně.
Bohužel všechno co vím :( (nechci opisovat wikipedii)

Takto vypadá dnes: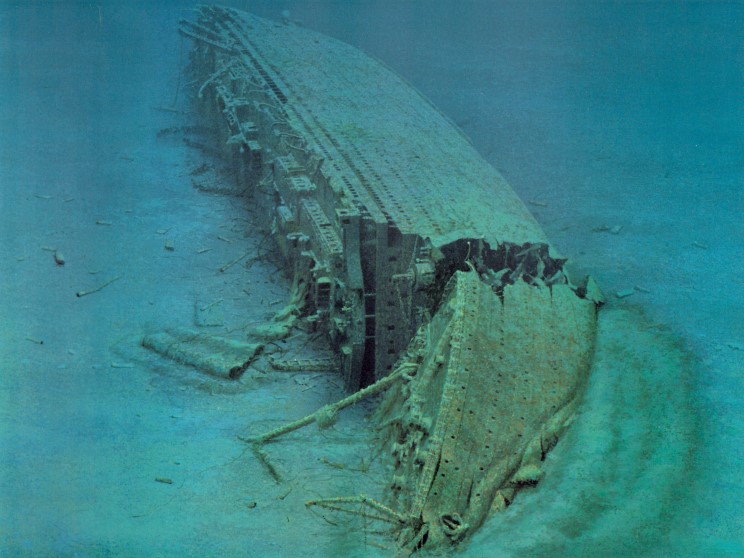 A takto vypadal předtím: (krásná lodička:P)

Olympic
Sesterská loď Titanicu (byly stavěnu vedle sebe) 1911 byl postaven a vypadal skoro úplně jako Titanic (viz. fotka)
(Titanic je napravo)
Podoba co? :) Jedna věc která mě překvapila je že nikdy nebyl potopen!!!
Ovšem jeho osud také nebyl zdaleka tak pěkný. Byl společností White Star line prodán do šrotu. :(
(Opět moc o něm nikde není nemám o něm ani knihu :// [už vím co si přát k Vánocům :P ] )
Jestli jste to dočetli až sem gratuluji tohle je můj nejdelší článek a ani kapka okopírovaná z wikipedie všechno psáno vlastníma rukama.
Děkuju za přečtení a navštivte mě zase někdy.